Tungsten Carbide Sleeve
The Benifits Of Useing Carbide Sleeve
A durable, industrial steel, carbide is used to make parts in a variety of machining applications. Also known as tungsten carbide, this essential element contains equal parts tungsten and carbon atoms, making it one of the strongest metals on Earth. For this reason, carbide is often applied to bushings, dies, gages and other machining parts. Explore the benefits that carbide bushings have to offer below, and then Us to see what we can do for you.
Carbide sleeves are resistant to wear
Tungsten is known for its high melting point and durability. It's also resistant to corrosion, which is ideal for industrial and manufacturing use. Likewise, bushings made from carbide offer an outstanding shelf life. That means you'll spend less time switching out worn-down bushings, and more time getting the job done.
Application of tungsten carbide sleeve/bushing

Tungsten carbide bushing applications is widely, which is a device to protect important components. In actual working, it have a great relationship between the rule and application environment.

Valve applications as sealing parts :bushings be installed in the valve stem cap trap, in order to reduce the valve leakage, for sealing;
bearing applications as protecting parts:the use of bush to reduce wear between the bearing and the shaft seat, avoid the gap between the shaft and the hole increases and so on.

Tungsten carbide bushing production and processing of high-strength, can withstand prolonged load, with high chemical stability, alkali,alcohol,hydrocarbons, acid, oil, detergent, water (sea water), and has no smell , non-toxic, tasteless, non-rust characteristics, its widely used in petrochemical industry for Submerged Oil Pump, slurry pump, water pump, Centrifugal Pump,etc.
Product Application Scene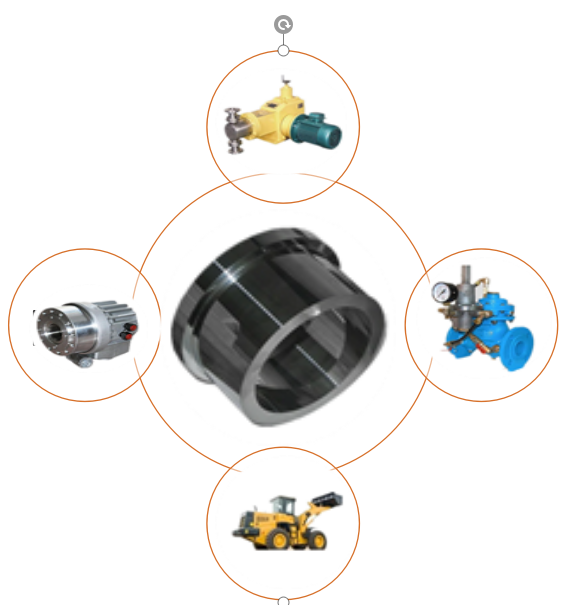 Grade List
Grade
ISO Code
Chemical Composition(%)
Physical Mechanical Properties (≥)
Application
WC
Co
Density g/cm3
Hardness(HRA)
T.R.S N/mm2
YG3
K01
97
3
14.90
91.00
1180
Suitable for finishing of cast iron,non-ferrous metals,alloys and non-metallic materials,and semi-finishing vehicles for intermittent cutting.
YG6
K10
94
6
15.10
92.00
1420
Finishing of chilled hard alloy cast iron and heat resistant alloy steel and ordinary cast iron.
YG6X
K20
94
6
15.10
91.00
1600
Cast iron, non-ferrous metals and alloys, non-metallic materials, medium to cutting, semi-finishing and finishing.
YG8
K20-K30
92
8
14.90
90.00
1600
Suitable for casting of cast iron, non-ferrous metals and their alloys and non-metallic materials, roughing of sections and rough cutting.
YG10
K40
90
10
14.70
89.00
1900
Suitable for the production of drawing dies, wear parts and stamping parts and cores for hard alloy automatic presses.
YG10X
K40
89
10
14.70
89.50
2200
Suitable for small diameter micro drills, end mills, rotary boring tools, etc.
YG15
K30
85
15
14.70
87.00
2100
Forging, perforating and stamping tools for steel bars and steel tubes with high compression ratios and working under large stresses.
YG20
K30
80
20
13.70
85.50
2500
Stamping die, stamping watch parts, musical instrument spring piece.
YG20C
K40
80
20
13.70
82.00
2200
punching battery case, toothpaste skin mold, small size steel ball, screw, nut stamping die, hot rolling twist drill bit plate.
YG30
G60
70
30
12.80
82.00
2750
Production of standard parts, bearings, tools and other industries for cold heading, cold punching, cold pressing die.

Details Carbide Bushing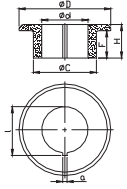 Deimensions of A Type Straight Sleeves (mm)
D
d
C
F
H
13.0-59.0
3.0-51.0
8.0-56.0
22.5
25.5
35.0-51.0
22.0-37.0
28.0-41.0
11.0-13.0
15.0-25.0
Notice:a=1.6, 3.2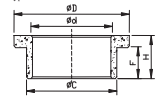 Deimensions of A Type Straight Sleeves (mm)
D
d
C
F
H
13.0-59.0
3.0-51.0
8.0-556.0
22.5
25.5
35.0-51.0
22.0-37.0
28.0-41.0
11.0-16.0
15.0-25.0